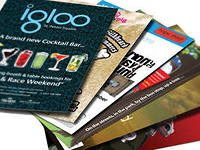 What is the flyer? This bright flyer, its presence provides the opportunity to buy goods at a discount, but only once.
It is necessary to disassemble more detail all the elements of this definition.
format flyer
There are certain dimensions of flyers, they are common. All three formats:
A6 105 x 148 mm
A.5 148 x 210 mm
1/3 A4 100 x 210 mm
Flyer usually has a very bright and eye-catching design. It does not have too much information only the most important. For more information, you need to visit the official site of the action, whose address is also available on the flyer.
Single entry
After using the flyer, its consumer take. Whereby there is the number of new product or service buyers, and the success of the advertising company.
Forms discounts for flyers
Discount is a relative concept. Since it can be expressed in any form, allowing to save the potential buyer. It should provide a few examples :
The flyer can be a free pass, eg, The Night Club, but if you have a student card.
The flyer can provide an opportunity five times to shoot a crossbow, is free.
Presence allows you to purchase flyer sushi and rolls at a discount 20%.
Presenting the flyer you can get a free glass of beer.
Flyer attracts consumers to those, it offers a discount or free admission. If the consumer has not received a flyer with a discount, eg, sushi, there is a possibility, that he would not have ordered them at all or in the coming days. But, since there is the presence of a flyer, which allows you to order sushi at a discount, the consumer still does order. Flyer serves as a stimulus. Discount always creates a sense of virtual profit, what the whole force of the flyer is.
Acts bearer
The essence of the flyer is, that it works only if, when presented. The advertising campaign is only valid for a certain period of time, but indefinite number of consumers. This bright paper sheet becomes a document, which gives its owner certain property rights.
How to distribute flyers?
From what depends on the efficiency of the distribution of flyers? It depends on, how close to the target audience distributor. On this occasion, there are some tips:
Handing out flyers at the entrance you need to shop. If the outlet is in a shopping center, as often happens, the need to give them about five meters from the point of. Having the flyer, customer, probably, It comes to a point of sale, because he is sure to be going past, flyer and motivate.
It is necessary to study carefully the place, inhabited by potential buyers. So, eg, if the flyers give the opportunity to go to a nightclub, then they need to be there to distribute, where many students.
You can bring "secret agents". That exist among the community leaders, who are potential buyers of this product. The sports club, eg, handing out discounts on sports nutrition. Of course, Club may require a fee for it, but due to the fact, that customers will be more, sum, you will need to give, quickly pay off.