TWT Airdrop от Binance.com
If you are a user Binance and recently traded a little on Binance, then you will be able to claim TWT tokens. Airdrop has been sent to every Binance user, which completed the spot, margin or futures trading between 2020/12/14 0: 00 UTC и 2020/12/21 0: 00 UTC. TWT not traded on Binance, so you will need to withdraw them to your wallet.
You are welcome, note. If you do not withdraw your TWT within 14 days, you will lose them. You must do this before 5 January 2021 years in 00: 00 morning GMT, otherwise the tokens will be lost.
See the official announcement here.
You should now be fully aware of the, what do you need to use to get TWT. If not, then go to trustwallet.com and download the latest version of the wallet app first, for your mobile phone.
How to qualify for TWT
We will show you, how easy it is to send and change your TWT in the application Trust Wallet.
Access to TWT wallet on Binance
Open your Binance account and find TWT. Press button Withdraw, and you will be prompted to enter your address. You need to get your smart chain address, to get tokens.
Get the BNB smart chain receive address
In the application Trust Wallet open wallet Smart Chain (BNB). Press Copy button, to save it in the device memory for later use.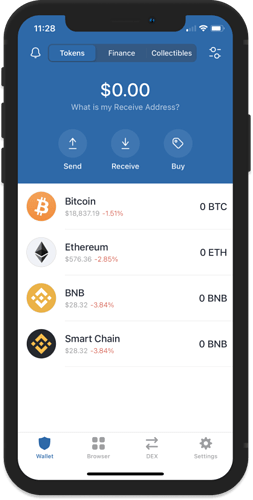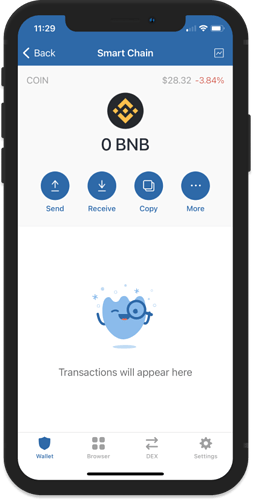 If you have another mobile device to access your Binance account, you can also use it to scan the QR code of the address. You need to click on Get button, to display a QR code for your BNB address.
Withdraw TWT
Go back to your Binance account and paste the address. Enter the number of tokens, which you want to output. You are welcome, make sure, that you are using the BSC address (BEP20 network – Binance Smart Chain, 99.5 tokens with a commission turned out), since the tokens will be lost, if they are sent to another network.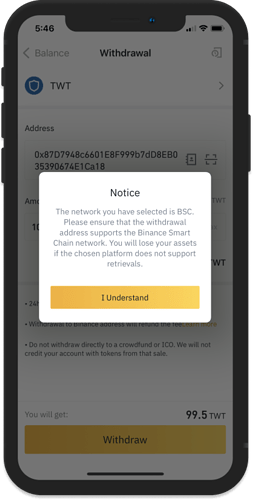 Binance will take part TWT for a salary – 0.5 TWT. Wait a bit, about a minute, to complete the withdrawal request.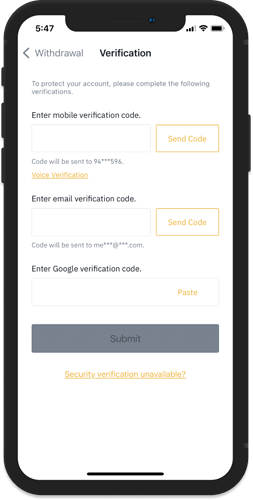 Wait, until the deposit goes to your wallet. Congratulations, you have successfully received your TWT.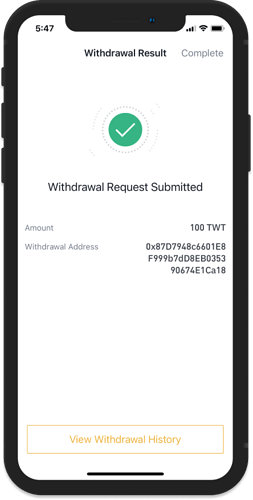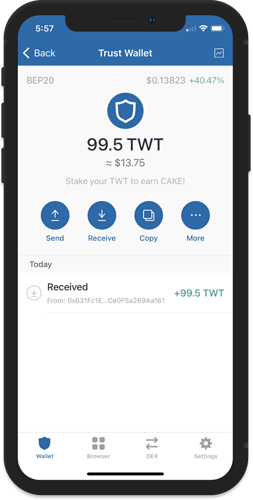 What to do with TWT tokens next?
Further, or leave it in your wallet and let it lie, suddenly give 10-50 X's through 5 years old. The main thing is not to lose access to the wallet, your phrase.
If you just want to get profit, presently 14$, then there is one more short instruction, the beginning is the same, just need to bring to the wallet from 0.01 BNB, to pay the commission for the exchange.
Instruction from the Telegram chat:
1. Started up with Binance on Trust Wallet 100 TWT (BEP20 network – Binance Smart Chain, 99.5 it worked out with the commission);
2. Started up with Binance on Trust Wallet 0.03 BNB (when withdrawing from the exchange, I chose the BEP20 network (BSC) – a yellow Binance icon on a black background in the Trust Wallet) to pay further commission when converting TWT to BNB;
3. Clicked on TWT in the main menu of the Trust Wallet, pressed the button "Yet" and chose Trade TWT;
4. Specified the exchange direction TWT -> BNB (BNB icon in the form of a stock exchange icon on a black background), chose 100% of the TWT amount in the wallet and converted;
5. A few minutes later TWT exchanged for black BNB, after which I took these BNBs back to Binance to the BNB wallet (BEP20 network address, BSC);
6. Wait some time and see your binos on the exchange:) I did it 0.41 BNB.
How are you, happened? What do you think to do with tokens, leave or make a profit immediately? Let's figure out why we need TWT tokens of the Trust Vallet wallet. Further transfer from the official wallet reference.
What (TWT)?
Trust Wallet Token (TWT) 1.4 k – this is a service token, which can only be used in the wallet app. It will be used to incentivize all wallet users. We encourage everyone to contribute and be more informed in the crypto space.. Our goal is, to give everyone access to cryptocurrencies and educate them, owning his first crypto.
Note:
TWT was also released as a BEP20 token.
Read more here: TWT is now available on Binance Smart Chain 373
What are the incentives (TWT)?
Governance token

5

, which will be used by all, who wants to take part in making decisions on adding new blockchain support, tokens and product features. Fees will also apply for submitting materials to the repository. trust wallet.
Discounts on DEX services and in-app crypto purchases.
Collection market, any, who is interested in trading, selling or buying digital collectibles, can use the token in a user-friendly environment.
DApp reviews and promotions encourage developers to work on DApps, that drive the further adoption of the Web 3.0 on mobile devices.
Affiliate and bounty reward, token can be converted to BNB or ETH, that can be used to pay network fees.
User guarantee and reputation users will be able to vouch for product developers, which they like, to show the quality of the product to the rest of the trust ecosystem.
Will it (TWT) have value?
It depends on you, our users, to solve, what is the cost of the token. You can send them to your friend or even exchange them. These are tokens BEP2 и BEP20, therefore any wallet, supporting the Binance Chain ecosystem, can get them. Token lists for enabling trading – this is a short term goal. The team is focused on the overall improvement and usefulness of the token.
How will it be distributed (TWT)?
Referral campaigns.
Earn, participating in quizzes.
Tip, helping other users.
Performing tasks in the application, such as rates, trade, etc.. d.
List of wallets, in which TWT is stored
TWT tokens will be distributed among all Trust Wallet users. These can be old and new users., as well as developers. Everyone receives a portion of the TWT supply.
More 25% TWT tokens have already been distributed to the Trust Wallet community through promotions, giveaways or activities to attract users.
Where can I get TWT?
TWT BEP2 was officially registered at Binance DEX. See the announcement here.
You can trade TWT BEP2 and BEP20 through the built-in DEX application Trust Wallet.
PancakeSwap Enabled TWT BEP20 Trading. Check it out leadership.
Does TWT have a Roadmap?
Stay tuned for further announcements, while in the process.
Total
If you got it for free 100 TWT tokens from Trust Wallet, you better save them in your wallet, strong project, bought by Binance exchange, the token will grow with the increase in users, and there they will also come up with an application for it. But if an active trader, then converting tokens to BNB is also a good idea, because. they are spent on lower payment of commissions usually, -25%. I had one deal with Litecoin at this time, therefore I received tokens and transferred everything to the BNB token back to the exchange. Well, you think for yourself. Success.